Sometimes I just can't help myself, and watch all kinds of dorky Star Wars fun from the endless free entertainment provided by the internet. And no, I don't mean the abysmally received Star Wars Holiday Special. (Although you can find THAT on the internet too, if you have 98 minutes to kill watching something that even Lucas sends Imperial probe droids out to destroy).
Since Chewie has had one of his most active movie roles ever in Solo: A Star Wars Story, I figured it would be appropriate to share just how well a big walking carpet can sing.
Enjoy!
-----Content continues below------
The World's Most Indispensable Movie App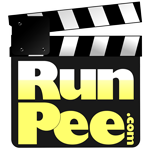 The RunPee app tells you the best times to
run & pee during a movie
so you don't miss the best scenes.

Read more about the RunPee app
.
More Star Wars Story fun on RunPee.com – Featurette: Becoming Solo
Don't miss your favorite movie moments because you have to pee or need a snack. Use the RunPee app (Androidor iPhone) when you go to the movies. We have Peetimes for all wide release films every week, including Ant-Man: Quantumania, Creed III, Scream VI, and coming soon John Wick IV. We have literally thousands of Peetimes—from classic movies through today's blockbusters. You can also keep up with movie news and reviews on our blog, or by following us on Twitter @RunPee. If there's a new film out there, we've got your bladder covered.
Co-Creator of RunPee, Chief of Operations, Content Director, and Managing Editor. RunPee Jilly likes galaxy-spanning sci fi, superhero sagas, fantasy films, YA dystopians, action thrillers, chick flicks, and zany comedies, in that order…and possesses an inspiringly small bladder. In fact, that little bladder sparked the creation of RunPee. (Good thing she's learned to hold it.)